Objective: To ensure sustainable access to the AONB for the benefit of the health and wellbeing of local people and visitors, consistent with the designation
Whilst the primary purpose of the AONB is to conserve and enhance natural beauty, an important activity of many members of the AONB Partnership is to engage people and organisations with the landscape at every level. This is vitally important to ensure people understand why the area is designated and to ensure future generations look after its natural beauty. Engagement happens in many different ways including on a visual, physical and emotional level.
Physical access has been a high priority for much of the coast and countryside management activities through provision of public rights of way, open access land and opportunities for sport and recreation. The AONB has 334km of Public Rights of Way in the AONB, including the 128km South West Coast Path. This well-established National Trail is also within the new England Coast Path which provides considerable economic value to the AONB. The South West Coast Path is one of the most popular National Trails in England, and this can lead to direct and indirect impacts on the local environment arising from transport, visitor and tourism business pressures.
The 935 hectares of 'Open Access' land, as defined under the CRoW Act, covers just over 5% of the total area within the AONB, much of it along the coast path and including the wide sandy beaches found along the coast from Westward Ho! through Saunton, Croyde and smaller beaches along to Combe Martin. North Devon is known for its water sports particularly surfing, however other water sports such as kayaking, coasteering, paddle boarding and wild swimming have become increasingly popular taking people closer to nature and reaching previously inaccessible or less visited sites. All of these have the potential to impact negatively on the AONB if not sensitively managed.
For information on our new Nature's Tonic project, helping adults to get outdoors and connect with nature, click here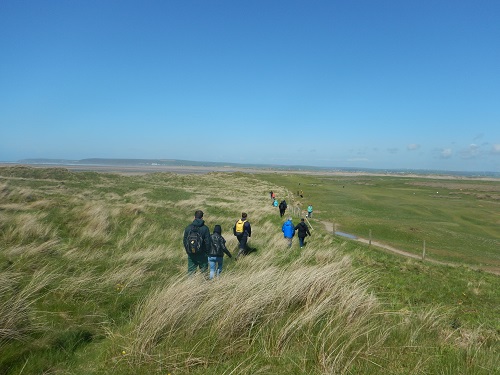 Download our AONB cultural trails for information on self-guided walks:
AONB Cultural walks trails 1: Torridge
AONB Cultural walks trails 2: North Devon
South West Coast Path
National Trust easy access trail – Bideford Bay & Hartland
National Trust easy access trail – Woolacombe
National Trust easy access trail – Mortehoe
National Trust easy access trail – Baggy Point
State of the AONB 2014 – 2018 – Access Health and Wellbeing indicators
North Devon Coast AONB Management Plan 2029 – 2024