Outstanding Fun and Learning in the AONB
With something for everyone, the North Devon Coast AONB celebrated their national 'Outstanding' week in September with ten events across North Devon reaching over 600 people. From serious science to sand drawing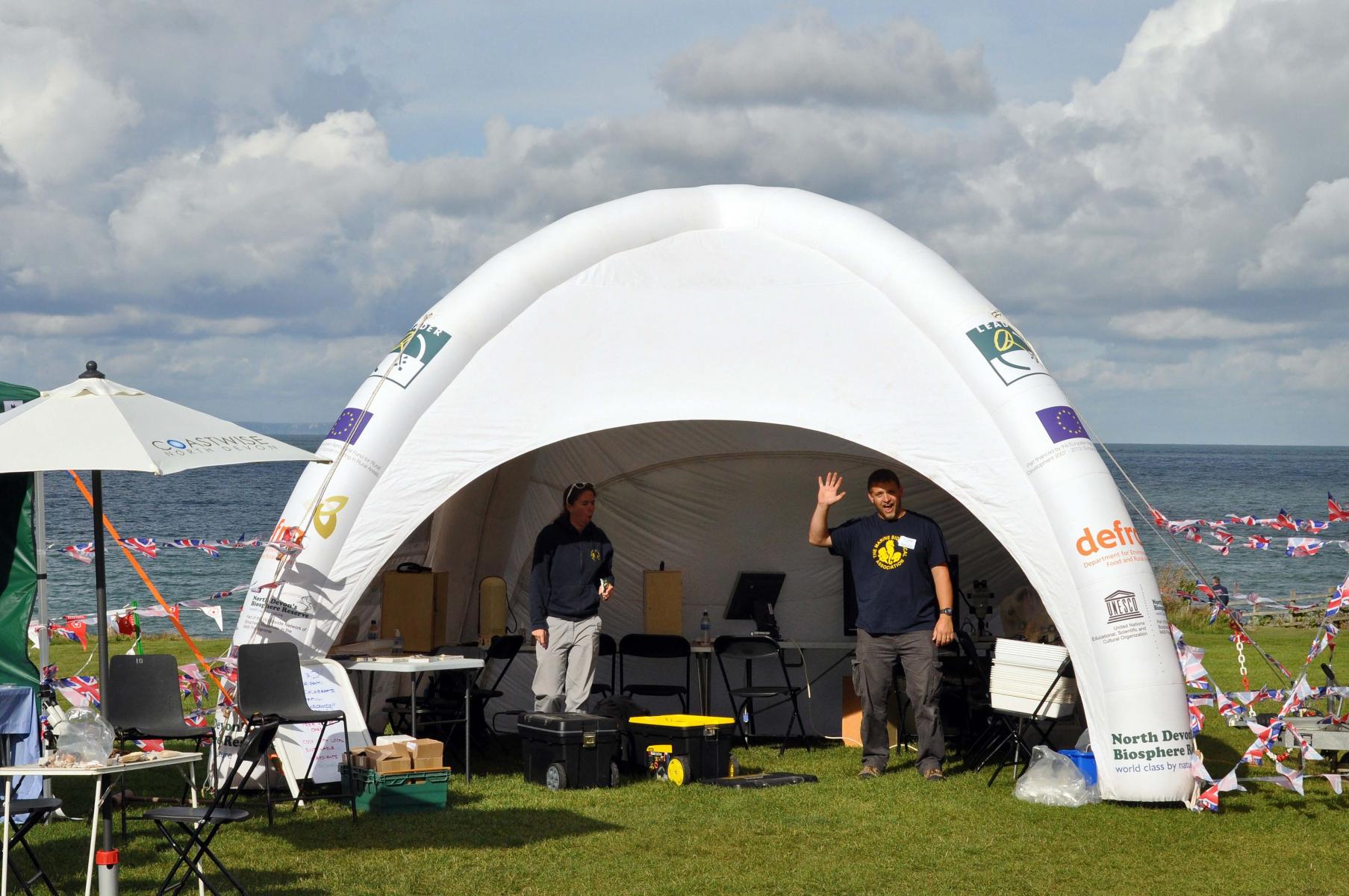 and bat walks to beach cleans, there was a chance to enjoy, understand and look after the Areas of Outstanding Natural Beauty across North Devon and Torridge.
"Our Areas of Outstanding Natural Beauty are some of our most special and beautiful places which should be enjoyed by all," said Defra Minister Lord Gardiner commenting on the nation-wide initiative by the AONB Partnerships. "Outstanding week was a real showcase of the activities on offer in these unique landscapes, encouraging residents and visitors alike to get involved and preserve them for generations to come."
"Working with our partners at Coastwise North Devon, the National Trust and the Marine Biological Association, nearly 300 people contributed to the biological surveys at the Croyde Bioblitz," said Coastal Creatures officer Cat Oliver. "We now have all the sightings from the day recorded by the MBA and we identified 450 different species of plants and animals in just eight hours, including 50 new species for North Devon. A massive thank you to the Coastwise volunteers for all their hard work on the day and organising the whole event."
The Outstanding week also coincided with Devon Wildlife Trust's 'BatFest' as part of the Devon Greater Horseshoe Bat project. North Devon hosted three bat walks to explore their feeding grounds around Braunton and increase understanding of these fascinating creatures. "We had 23 adults and children on the walks, using electronic bat detectors to identify twelve different species across three sites," said AONB Officer Dave Edgcombe. "The three most common species were Common Pipistrelles, Soprano Pipistrelles and Serotine bats but we were especially pleased to identify a few Greater and Lesser Horseshoe bats and Daubenton bats. This information will be used to create a local self-guided bat walk for next year."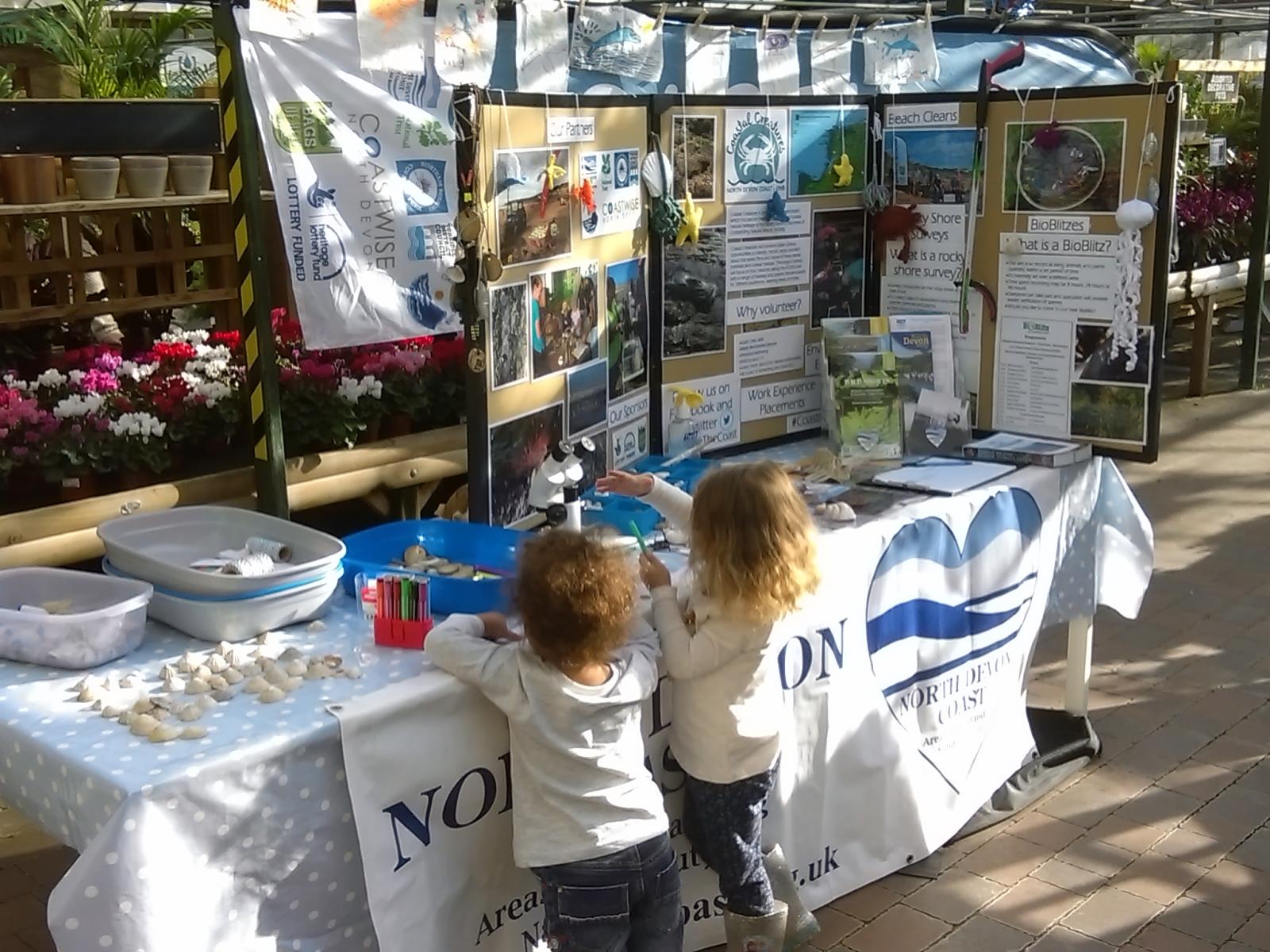 Protecting wildlife and keeping the AONB accessible and enjoyable for all is an ongoing priority of the AONB team, with regular beach cleans to remove the marine litter washed in by storms and tides. "Combe Martin Primary School excelled themselves with 137 pupils and staff taking part in a one hour beach clean and
collecting 570 items of litter," said AONB Manager Jenny Carey-Wood. "Across the four beach cleans we recorded 1,892 items for the Marine Conservation Society's annual survey of marine litter, so they can work at the international level to reduce marine waste. The full beach cleans removed a total of ten and a half bin bags of rubbish from Combe Martin, Wildersmouth, Ilfracombe harbour and Welcombe, an outstanding contribution to protecting our marine wildlife and making our beaches cleaner for all to enjoy."
The final weekend included a 'Coastal Change' talk and exhibition at Appledore Arts Festival by AONB officer Dave Edgcombe, attended by 103 people and delivered in partnership with Beaford Arts. This used photographs from the AONB's ongoing landscape monitoring work contrasted with photographs from the Beaford Old Archive and Ravilious Archive to demonstrate landscape changes due to climate and human influences.
AONB Partnership Chairman Steve Pitcher commented, "The contribution of volunteers and partnership organisations to our Outstanding Week has made it a real success in 2016. The value of the AONB to local residents, schools and scientists has been demonstrated by their engagement with exciting scientific discoveries through the Bioblitz and caring for the area with the beach cleans. I extend our thanks to all of them from the AONB team and the Partnership."
Gallery